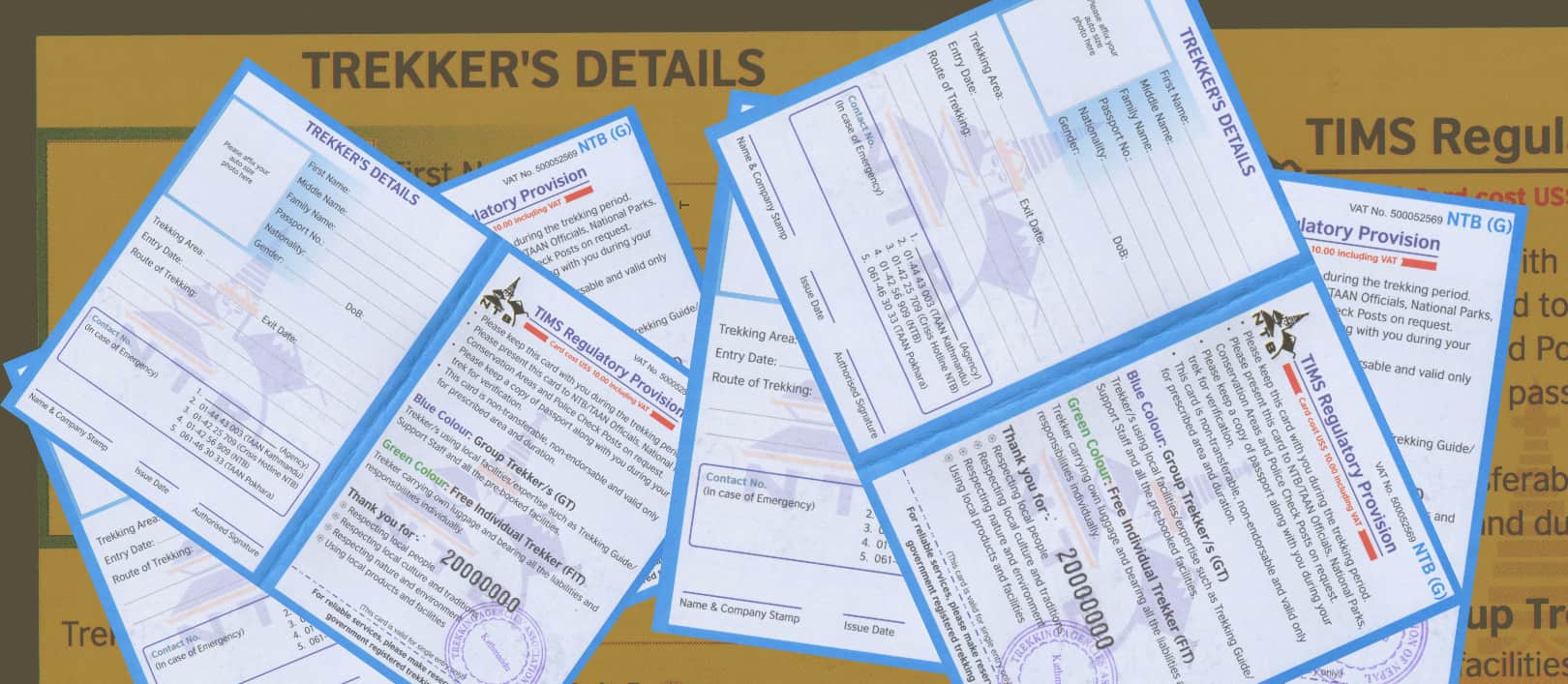 Trekking Guide and TIMS Card Mandatory on Most Trekking Routes in the Himalaya
As per Revised TIMS Provision effective from March 31, 2023, specific Protected Areas of Nepal need trekker to be accompanied by licensed trekking guide and carry a trekking agency issued TIMS Card. Below are the trekking regions and routes falling under this rule.
Trekking Region
Name of the Trek
Kanchenjunga Region
1. Kanchenjunga Base Camp via Sele La Pass Trek
2. Kanchenjunga Basecamp Trek
3. Kanchenjunga Base Camp Nango Pass Trek
4. Lumba Sumba Pass Trek
Makalu Barun Area
1. Makalu Basecamp Trek
2. Sherpeni Cole Pass Trek
Everest Region
1. Everest Basecamp Trek
2. Gokyo Trek
3. Chho La Pass Trek
4. Gokyo Renjo La Pass Trek
5. Three Passes Trek
6. Everest View trek
7. Mera Peak Trek
8. Amphu Labtsha Pass
Rolwaling Region
1. Rolwaling Trek
2. Tashi Labtsha Pass Trek
Panchpokhari Bhairabkunda Area
Panchpokhari Trek
Helambu Region
1. Helambu Trek
2. Goshaikunda Trek
Langtang Region
1. Langtang Trek
2. Langtang Gosaikund Trek
3. Tamang Heritage Trek
4. Tamang Heritage Langtang Trek
5. Ganja La pass Trek
6. Till Man Pass
Ganesh Himal-Ruby Valley Area
Ganesh Himal – Ruby Valley Trek
Manaslu Region
1. Manaslu Circuit Trek
2. Manaslu – Tsum Valley Trek
3. Tsum Valley Trek
Annapurna Region
1. Annapurna Circuit Trek
2. Nar Phu Annapurna Circuit Trek
3. Mesokanto / Tilicho Pass Trek
4. Poon Hill-ABC Trek
5. Khopra Trek
6. Mardi Himal Trek
7. Sikleh Tara Hill Trek
Mustang Region
1. Upper Mustang Trek
2. Sarebung Pass Trek
Dhaulagiri Region
Round Dhaulagiri
Dolpo Region
1. Upper Dolpo – Jomsom Trek
2. Upper Dolpo Trek
3. Lower Dolpo Trek
4. Kagmara Pass Trek
Humla Region
Humla Limi Valley Trek
Therefore, the first thing an aspiring trekker must do is find out if the route they are interested to trek requires trekking guide and TIMS Card. If yes, please get in touch with a Government registered trekking agency to arrange for the trekking guide and TIMS Card.
Source: Nepal Tourism Board